The W̱ ESELÁNEW̱ moon marked the beginning of Winter. The leaves are ready to fall, the
wind comes. Turbulence is felt in the waters and skies. The Earth is cooling down.
Traditionally the Anglo Saxons did their slaughtering now because the cold weather was
conductive to preserving the meat of the animal/bird. In the W̱ ESELÁNEW̱ moon, fishing
was undertaken mostly in the safely of local waters. This was the time when big winds come
and changed the season to Winter.
EMCS would like to acknowledge the Coast Salish Territory, specifically we would like to acknowledge T'Sou-ke Nation, who have been gracious enough to share the beautiful land on which EMCS is built. We would also like to acknowledge Scia'new Nation, Nuu-chah-nulth: Pacheedaht Nation, and Métis Nation whom EMCS and District 62 work closely with.
Today
ABORIGINAL SHIP REPAIR ENTRY LEVEL TRAINING PROGRAM:  Join us at Camosun Coastal Centre for this great training opportunity from Dec 6, 2021 – Feb 11, 2021.  See HERE for more information. 
JUNIOR AND SENIOR GIRLS SOCCER SIGN UP: Come sign up to be on a EMCS girls soccer team. Ms. Jones will be taking names of those interested at lunchtime on Monday Dec. 6th to Wed. Dec. 8th in the Learning Commons! Season runs March to early May.
New and Ongoing Information
The EMCS Wellness Center in Room 1106 is open on Wednesdays.
Nurses will be available from 9:30-12:00pm
Doctors will be available from 12:00-3:30pm
Youth-Health-Clinics-in-western-communities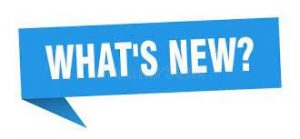 DISCOVER TRU! Thompson Rivers University is visiting EMCS.
TRU is located in Kamloops, BC.
Want to learn what it's like to be a Thompson Rivers University student? 
Have questions about programs, application process, and scholarships?
Sign up to attend this session and meet with a TRU Recruiter-Advisor!
Tuesday, December 7 at 9:00am
EMCS Office Seminar Room
SIGN UP ON THE BULLETIN BOARD ACROSS FROM MR. PHIPPS' OFFICE IF YOU'D LIKE TO ATTEND.  OPEN TO GRADE 10 TO 12 STUDENTS.
DECEMBER FESTIVITIES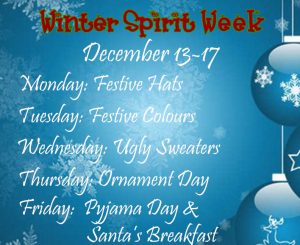 10,000 TONIGHT FOOD DRIVE CLASS COMPETITION: From Nov 29-Dec 10 money donations can be brought to you're A block class. The winning class will receive a pizza party!
WINTER DOOR DECORATING: Let's get our doors in the festive spirit.  This is a class decorating competition during A Block.  All classes will be supplied with a paper Christmas tree to decorate (on the outside of your class/office door) and a bag of decorations.  If you would like to supplement with supplies from home, they must be recycled materials!! Judging will take place on Thursday, Dec. 16th, with the winning class announced on Friday first thing 😊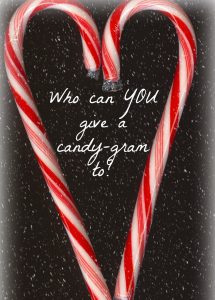 CANDY CANE GRAMS: On sale for $2.00 Dec 13-15, delivery on Dec 17
HOT CHOCOLATE SALES: Dec 10, and 13-17 in the Common. See TV screens for "menu" choices.
DECEMBER LOCKER CLEAN-OUT: THURS, Dec 16 – A BLOCK
Be sure that your locker is TOTALLY clean before you leave for winter break…
Binders, textbooks, etc. are fine to leave in.  However, PE strip, food & containers, garbage, etc. needs to be cleared out!
Let's start the New Year with a clean and organized locker!
FOR THE YEARBOOK: Help us make this yearbook even more memorable! Upload photos taken at games, dances, practices, etc. by can downloading the Friesen's UploadIt app. Please see HERE for more info.
YEARBOOKS FOR SALE:  Pre-sales of our 2021-22 yearbooks are now available for purchase on School Cash Online for $50. https://sd62.schoolcashonline.com/
LOCKERS: Lockers are not automatically assigned, those who would like a locker need to come to the front office to request one.
STUDENT PARKING PASSES AND VEHICLE REGISTRATION: Please fill out the online form at https://forms-reg.sd62.bc.ca/emcs_driver_reg. Once approved a decal will be sent to you through your classroom teacher.
Wolverines Athletics
SENIOR GIRLS VOLLEYBALL: Please return your washed jerseys by this Friday to Coach Lindsey.
Student Opportunities & Support
NEW STUDENT LUNCHTIME CLUBS IN THE LIBRARY: Three new student clubs are being launched – all students and staff are welcome! Come check them out or see Ms. Jones in the library learning commons for more info.
Board Game Club: Rotating games, players' choice. Drop by, learn a new game or play a classic. Mondays at lunch.
Book Club: Club's choice of book. Read and talk about a book with a group – sign up with Ms. Jones before Dec. 10th. 
Comic Club: Come talk about, read and create comics, graphic novels, and manga. Tuesdays at lunch.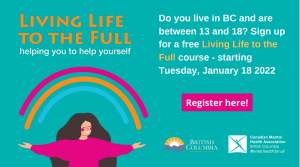 LIVING LIFE TO THE FULL (a virtual mental health promotion course for youth)
Helping you help yourself.  Want to know how to feel happier, more confident and worry less right now?  Would you like to learn new ways of dealing with what life throws at you?  Living Life to the Full is a fun and interactive course that will help you understand your feelings, thoughts and behaviours, and what to do about them!
The virtual course will run between Jan 18, 2022 to March 15, 2022.
Course time: 4:30pm-6pm
Runs every Tuesdays during 9 weeks
Here is the link to register: https://www.eventbrite.ca/e/213974863577
YOUTH IN ACTION: Calling all youth between the ages of 11-16. United Way wants to hear from you on ways to improve your community to benefit young people! $500 is awarded to help make your idea a reality. See HERE for more info and how to apply. Online submissions are due by Dec 3rd.

SOOKE REGION HEALTH NETWORK SEEKING VOLUNTEER TUTORS: 
Tutors ages 16+ are needed for online digital learning sessions for the Sooke Region.
For more info call 250-385-0014 or email computers@victorialiteracyconnection.c
HIRING YOU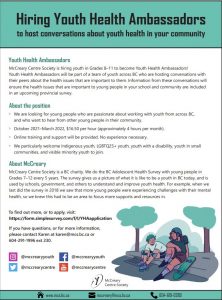 TH HEALTH AMBASSADORS: McCreary Centre Society is hiring youth in Grades 8- 11 to become Youth Health Ambassadors!
See the poster for more info.
FREE MATH AND SCIENCE TUTORING: Tor, one of our EMCS Grade 12 students, is volunteering to offer tutoring for math and science courses after school.  Students can see the bulletin board across from Mr. Phipps' office for Tor's schedule and contact info.
BE A TEEN MENTOR FOR AN ELEMENTARY SCHOOL STUDENT:  Mr. Phipps is looking for 20 students interested in volunteering as mentors for elementary school students at Saseenos this year. We are looking for volunteers who are reliable, honest, fun, and mature. Volunteers must have good communication skills and be able to commit to seeing their little buddy at Saseenos once a week (usually Friday from 2:10pm to 3:00pm).  This is a fantastic experience for the high school mentors as well as the younger students they work with. If you would like to apply or want to find out more, see Mr. Phipps in the counselling office as soon as possible.
SUPPORT: Students are encouraged to reach out to classroom teachers frequently for information and support. Students are also assigned a Vice Principal and a Counsellor:
Last names A–K & International Students:
Vice Principal: Mr. Todd Powell – tpowell@sd62.bc.ca
Counsellor: Ms. Sharon Jesson – sjesson@sd62.bc.ca
Last names L-Z
Vice Principal:  Mr. John Mennie – jmennie@sd62.bc.ca
Counsellor: Mr. Allan Phipps – aphipps@sd62.bc.ca
THE CAREER CENTRE is open all day and is happy to assist you with your work experience hours, apprenticeships and resume/application processes. Feel free to book an appointment online at  http://emcs.web.sd62.bc.ca/students/career-centre/book-a-careers-appointment/. We look forward to seeing you.
Post Secondary Planning & Careers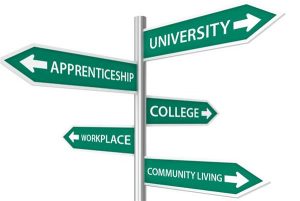 BC POST-SECONDARY VIRTUAL FAIR:  December 7
VIRTUAL FAIR OPEN FROM 9:00 am to 7:00 pm on these dates:
Live presentations from 29 BC post-secondary schools
Learn about schools, programs, entrance requirements, etc.
Connect with institutional reps through text and video chat
Download program information and watch additional video content
Sign up for more info from any institution of interest
Door prizes!
To register visit: www.postsecondarybc.ca
DOMESTIC VIOLENCE SUPPORT GROUPS: 2 free sessions available for survivors of gendered violence and domestic violence to share in a space that is facilitated by a professional BIPOC counselor from the Battered Women's Support Society. Please contact Cheyenne at cheyenne@sniwwoc.ca to register and for more information. The session runs on January 5th.
INTERESTED IN A CAREER IN THE MARINE TRADES? This fully funded program welcomes youth (ages 17-29).  See HERE for more information.
PAID TRAINING TO BECOME A HEALTH CARE ASSISTANT: Any Grade 12 students interested in becoming a Health Care Assistant after high school, see Mr. Phipps if you'd like to find out about an opportunity to have your college education paid for AND earn a salary while you are going to school.  Students would need to re-locate to beautiful Terrace, BC and would attend Coast Mountain College.
OTHER POST-SECONDARY INFO SESSIONS:  For details regarding post-secondary information sessions during the school year, keep an eye on the post-secondary info session section of the EMCS website.  (Counselling Centre top tab, Post-Secondary sub tab). Events will be added to the page as we find out about them.  https://emcs.web.sd62.bc.ca/counselling-centre/post-secondary/post-secondary-info-sessions/
COLLEGE AND UNIVERSITY APPLICATIONS:  Application for most colleges and universities opens in September or October.  Check the websites of schools of interest for this year's dates and deadlines.  For information on post-secondary education, including the application steps, see the post-secondary section of the EMCS website at:  https://emcs.web.sd62.bc.ca/counselling-centre/post-secondary/post-secondary-career-information/
IMPORTANT INFORMATION ABOUT CAMOSUN COLLEGE:  Application for Camosun programs opened September 15.  Several Camosun programs are filled on a first come, first served basis so it is important to apply as soon as possible.
NEED HELP WITH POST-SECONDARY APPLICATIONS?  For assistance with post-secondary applications, book an appointment to see your school counsellor:  https://emcs.web.sd62.bc.ca/counselling-centre/book-a-counselling-appointment/
Grade 12 Students
SCHOLARSHIPS AND BURSARIES:  Grade 12 students and parents/guardians interested in updates regarding scholarships and bursaries, please join the "Scholarships 2021-2022" group on the Wolverine App.  Mr. Phipps will be posting scholarship and bursary related information to that group throughout the year.
Also, Grade 12 students are encouraged to visit the scholarship & bursary section of the EMCS website for step-by-step application instructions, a large database of scholarships/bursaries, and other important scholarship/bursary information.  That website will be updated throughout the year.  This information is found under the "Counselling" top tab, "Grade 12 Information" sub-tab, then "Scholarships Bursaries & Student Loans."
Please check out the latest EMCS newsletter by clicking on the link below:
Stay in the loop!
Please continue to check our website http://emcs.web.sd62.bc.ca/, the Wolverines App, and the District website https://www.sd62.bc.ca/ for up-to-date information! We continue to encourage parents and guardians to reach out to the school via phone (250-642-5211) and email (emcs@sd62.bc.ca) with any questions you may have!