EMCS would like to acknowledge the Coast Salish Territory, specifically we would like to acknowledge T'Sou-ke Nation, who have been gracious enough to share the beautiful land on which EMCS is built. We would also like to acknowledge Scia'new Nation, Nuu-chah-nulth: Pacheedaht Nation, and Métis Nation whom EMCS and District 62 work closely with.
Meaning of the WESELANEW Moon: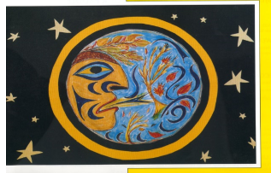 The WESELANEW moon marked the beginning of Winter. The leaves are ready to fall, the wind comes. Turbulence is felt in the waters and skies. The Earth is cooling down. Traditionally the Anglo Saxons did their slaughtering now because the cold weather was conductive to preserving the meat of the animal/bird. In the WESELANEW moon, fishing was undertaken mostly in the safely of local waters. This was the time when big winds come and changed the season to Winter.
https://www.racerocks.ca/the-13-moons-of-the-wsanec/

DATES TO NOTE:
Nov 28-Dec 9: 10 000 Tonight Campaign
Today
EMCS WORLD CUP KNOCKOUT STAGES:
EMCS World Cup Knockout Stages: December 5th! Please see the schedule here or go to the Gymnasium to see when your team plays. All games will run for twenty minutes starting at 11:45am.
Monday, December 5th: Albania vs Dominican Republic
Tuesday, December 6th: Canada vs England
Wednesday, December 7th: Mexico vs Australia
TEAMS ON BYE: Djibouti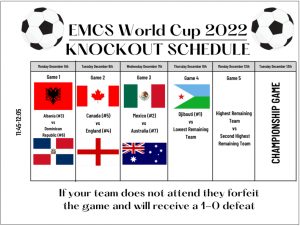 New and Ongoing Information
The EMCS Wellness Center in Room 1106 is open on Wednesdays.  Nurses will be available from 9:30-12:00pm.
Doctors will be available from 12:00-3:00pm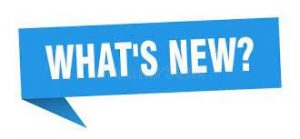 JOURNEY MIDDLE SCHOOL AND EMCS CHRISTMAS CONCERT:
Journey and EMCS will perform together in the theatre on December 12th at 7 pm.
CAREER LIFE CONNECTIONS 12A STUDENTS:
Reminder #1 – Unit 3, for Career Life Connections 12A, is due on Wednesday, November 30th.
Reminder #2 – By now you should have nine artifacts added, in total, to your Portfolio Artifact Presentation. The Portfolio Artifact Presentation is due on February 28th, with at least twelve artifacts, along with their descriptions and "I Can" statements present.
Reminder #3 – 30 Hour Package is due by March 31st.
HEADS UP —HEADS UP—HEADS UP!  
On December 6th, during Block B, you will be called down to the commons to participate in a MANDATORY assignment for Career Life Connections 12A. Adulting 101 is a fun way for you to consider things like car insurance, rent, phone costs, pet care, emergency costs, gym/swimming memberships, utility costs, insurance, and much more that you are going to need to know about when you graduate. This is a ONE TIME THING, so it is very important that you plan to be present on this day, complete the activities in your time slot, and hand in your assignment by the end of the day for assessment.
HEADS UP!—HEADS UP!—HEADS UP!
STUDENT SAFETY VIDEO CONTEST 2023: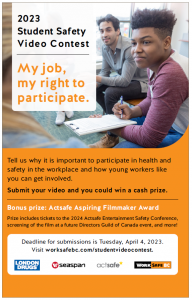 INTERESTED IN JOURNALISM?
ISLAND SOCIAL TRENDS…  BUILD YOUR JOURNALISM PORTFOLIO
Students interested in journalism have the opportunity to submit articles to Island Social Trends.  Click here for more info.
COURSE CHANGE DEADLINE:
The deadline for requesting course changes for Quarter 2 has passed.  Please do not book appointments to see counsellors to request changes for Quarter 2.  Requests for changes for Quarter 3 and 4 are made by submitting a course change form online under the Counselling top tab of the EMCS website.
BOOK CLUB!
Book Club will be meeting each Thursday in the Learning Commons Seminar Room.  ALL NEWCOMERS WELCOME!  If you have already signed up with Ms. Jones, be sure to join in the fun! Happy Reading!
POLICE CAMP: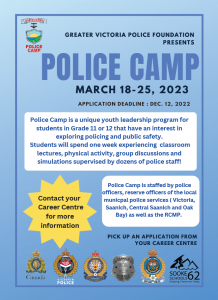 WEIGHT ROOM USE AT LUNCH TIME:
Any students who would like to use the weight room at lunch must sign into a Weight Room Google Classroom for orientation videos and gym etiquette information. Please see any P.H.E. teacher for the info.
LEAGUE OF LANGUAGE LEARNERS CLUB:
Are you learning English and looking for Canadian friends that can help you with your homework?  Do you want to learn a language that isn't taught in a course at school?  Do you need help with your Spanish or French homework?  Come to the League of Language Learners club!  You can get grad volunteer hours for teaching someone else your language.  We meet the first, third, and fifth Wednesday of every month in the Library Seminar room.  À bientôt!
MUSICAL THEATRE:
Musical Theatre will resume Tuesdays after school until 5:00 pm.  Come prepared with your memorized scene.
YOUTH EMPOWERED SPEAKERS:
First Peoples' Cultural Council applications are open.  Applications will close on January 16, 2023.  This program is for BC First Nations youth aged 18-30 and offers:
Funding for youth to learn their language with a mentor using the Mentor-Apprentice model
A paid internship for language work in community
Post-secondary tuition & living expenses for full-time students
There will be an information webinar happening in November – please sign up for FPCC's newsletter to ensure you receive this information:
Interested youth can apply at: https://fpcc.smartsimple.ca/s_Login.jsp
The website is https://fpcc.ca/program/yes/
We are happy to answer any questions about the program, our team can be reached at yes@fpcc.ca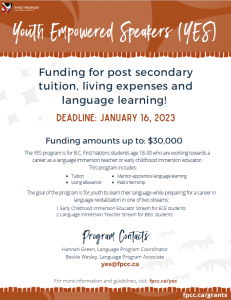 DID YOU RUN OUT OF TIME FOR BREAKFAST THIS MORNING?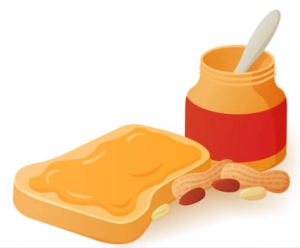 Give your body and brain the energy it needs to get you through the morning by helping yourself to toast and other free items starting at 8:00 am in the main commons area Monday to Friday.
ENVIRONMENTAL CLUB: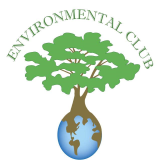 Are you concerned about the environment?  Come check out EMCS's first lunchtime environmental club!  This student-led club will give you the opportunity to explore and raise awareness about the environment, work on sustainable projects around the school, and meet new people.  Meetings are during Tuesday lunches in the Learning Commons (Library) and can count toward your 30 hour graduation requirement!
YEARBOOK INFO:
If you have taken photos and would like to share them, please refer to the
attached document. We have the Uploadit App that you can download to
your phone, you may set it up using our school code once and then
it will remember the code from then on. Please make sure to put titles
on the photo to let us know what subject/event the photos are from.
CLICK HERE for additional visual instructions on using the Uploadit App.
Friesens Uploadit App: https://apps.apple.com/ca/app/friesens-uploadit/id1531893358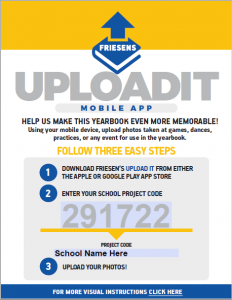 THERE WILL BE A YEARBOOK CLUB MEETING ON  WEDNESDAYS AT LUNCH.  Contact elutze@sd62.bc.ca if you are interested. It will be held in Computer Lab #2042.
THE YEARBOOK WILL BE MUCH BIGGER THIS YEAR, SO ACT FAST!
2022-2023 YEARBOOKS ARE FOR SALE FOR $50.00 ON SCHOOL CASH ONLINE OR IN THE OFFICE.
***Our extra 2020 Yearbooks are for sale at a reduced price of $30.  Proceeds are going into the Photography Program.  Please get them from Melissa Smith in the front office.  Please pay with cash or cheque for the 2020 Yearbooks.
EMCS TECH TEAM: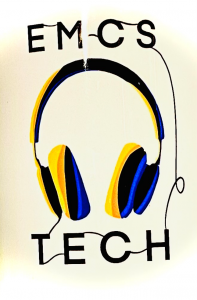 The EMCS Tech Team is looking for interested Grade 9 and 10 students to add to their team. See Mrs. McLellan for how you can be a part of making sound and light magic while supporting theatre events at our school.
ROBOTICS CLUB:
Anyone interested in building robots to accomplish tasks and overcome challenges should join the robotics club! Meet in room 1094 (Electronics) every Thursday at lunchtime. See Mr. Brady for more details.
GSA:
The Gender and Sexuality Alliance will be meeting every Wednesday from now on.  All are welcome!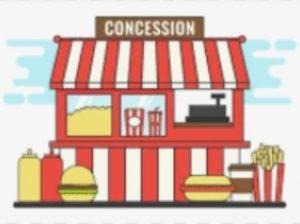 SKILLS FOR LIFE CONCESSION STAND: Skills for Life Concession is open every Friday and during cafeteria closures.  You can now purchase Concession Cards on Students' School Cash Online for $20 or purchase them at the office or concession stand.
KEEP IN THE LOOP: Remember to check our school website, school app, and the EMCS Newsletter, regularly for more information and updates.
LOCKERS: Lockers are not automatically assigned, those who would like a locker need to come to the front office to request one. Lockers are the most secure place for storing personal belongings and we encourage students to use them.  We urge students not to share lockers or to give anyone else their lock combination.  Students are not allowed to bring locks from home or to switch lockers.  At the end of the year, any student who has lost or damaged their lock will be charged a $5.00 fee.

STUDENT PARKING PASSES AND VEHICLE REGISTRATION: Please fill out the online form at https://forms-reg.sd62.bc.ca/emcs_driver_reg. Once approved a decal will be sent to you through your classroom teacher.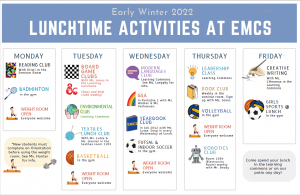 Wolverines Athletics

JUNIOR BOYS' BASKETBALL:
Practices for Div 1on Monday and Wednesday and Div 2 on Wednesday and Friday.  First practice for both teams on November 7th at 3:30. Please see Mr. Dudzik to determine numbers, collect Athletic Packages, and provide contact information.
JUNIOR GIRLS' BASKETBALL:
Practices Tuesday and Thursday from 3:30 – 5:00 in the Gymnasium starting November 8th and November 10th.  Please see Ms. Hawkings to sign up for the TeamSnap, collect Athletic Package and provide contact information.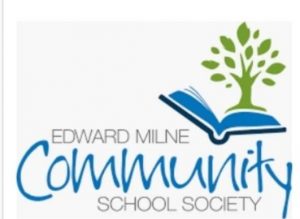 EMCS SOCIETY EVENTS AND PROGRAMS: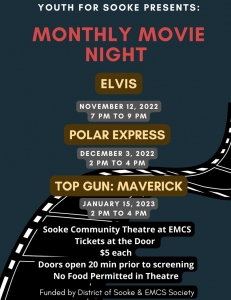 Student Opportunities & Support
SUPPORT: Students are encouraged to reach out to classroom teachers frequently for information and support. Students are also assigned a Vice Principal and a Counsellor:
Last names A–L
Vice Principal: Mr. Todd Powell – tpowell@sd62.bc.ca
Counsellor: Ms. Sharon Jesson – sjesson@sd62.bc.ca
Last names M-Z
Vice Principal:  Mr. John Mennie – jmennie@sd62.bc.ca
Counsellor: Mr. Allan Phipps – aphipps@sd62.bc.ca
International Students: Ms. Lindsay Tribe – ltribe@sd62.bc.ca
Post-Secondary Planning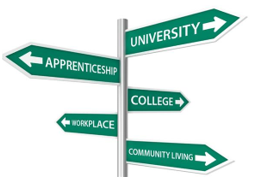 APPLY NOW TO CAMOSUN COLLEGE:
Camosun College applications opened September 15.  Many Camosun programs are filled on a first applied, first admitted basis.  Grade 12 students planning to start at Camosun in September 2023 should apply now.  See your counsellor if you have questions.
WOULD YOU LIKE UPDATES AND IMPORTANT INFORMATION ABOUT SCHOLARSHIPS AND POST-SECONDARY?
Download the EMCS Wolverines App and join the "Post-Secondary & Scholarships" group/class.
Grade 11 & 12 students and parents/guardians are encouraged to join.
Grade 12 Students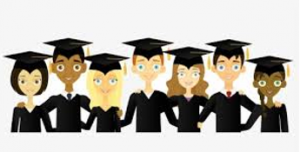 Apply for post-secondary if you would like to begin your post-secondary studies next September. See your school counsellor if you would like help with the application.
Log on to your Student Transcripts Service (STS) account and give consent for the Ministry of Education release your transcripts to the post-secondary schools to which you have applied (or will be applying). It is best to wait until mid-October (when all features of the STS are activated for current Gr. 12 students) to select which post-secondary schools will have electronic access to your transcripts
Start researching scholarships, bursaries, and student loans. Begin working on your application materials.
Are you taking an online or paper-based distance learning course? Make sure you are submitting work consistently throughout the school year. Note that many post-secondary schools have very early deadlines for distance learning courses that are required for admission.
Consider borrowing your prom clothing (dress, tuxedo/suit, shoes, etc.) from the Magic Wand rather than buying. Why buy a Grad Tux, or Dress when you can borrow one? The Magic Wand is a non-profit organization that offers an eco-friendly and inexpensive alternative to purchasing grad outfits. You can borrow like-new grad dresses, tuxes, suits, shoes and accessories. A small fee for cleaning is the only cost. To book an appointment email Elizabeth at esurerus@telus.net or Joy at jandtharrison@shaw.ca. While appointments can be booked starting in October, we do not yet know what Prom is going to look like this year so we encourage students to hold off until more information is released.
Please check out the latest EMCS newsletter by clicking on the link below
Please continue to check our website http://emcs.web.sd62.bc.ca/, the Wolverines App, and the District website https://www.sd62.bc.ca/ for up-to-date information! We continue to encourage parents and guardians to reach out to the school via phone (250-642-5211) and email (emcs@sd62.bc.ca) with any questions you may have!