EMCS would like to acknowledge the Coast Salish Territory, specifically we would like to acknowledge T'Sou-ke Nation, who have been gracious enough to share the beautiful land on which EMCS is built. We would also like to acknowledge Scia'new Nation, Nuu-chah-nulth: Pacheedaht Nation, and Métis Nation whom EMCS and District 62 work closely with.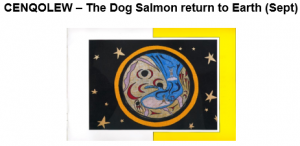 https://www.racerocks.ca/the-13-moons-of-the-wsanec/
NEW INFORMATION FOR THE WEEK OF
SEPTEMBER 25-29
YEARBOOK CLUB:
First meeting: Thursday, September 28 in LAB 2042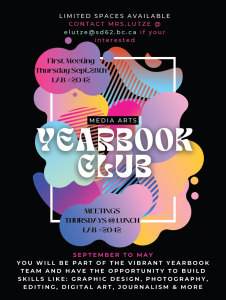 UNIVERSITY OF TORONTO NATIONAL SCHOLARSHIP:
Grade 12 students interested in applying to the University of Toronto, please email Mr. Phipps (aphipps@sd62.bc.ca) by September 28 if you'd like to be nominated for a scholarship.
CAMOSUN COLLEGE INFO NIGHT:
Grade 10, 11 & 12 students and parents/guardians are encouraged to attend.  A Camosun College student recruiter will share information about programs, admission requirements, the application process, and more!
Camosun offers something for everyone….   Upgrading, 1-year certificate programs, 2-year diploma programs, University Transfer, and some 4-year degree programs.
Don't forget that Camosun offers Trades Foundations Programs too including: Electrical, Heavy Duty Mechanic, Automotive Service Technician, Professional Cook, Welding, Carpentry, Refrigeration & Air Conditioning.
Many Camosun programs fill up quickly!  This info session is important for any Grade 12 students considering Camosun College.  It is also a valuable opportunity for Grade 10 and 11 students to explore options and begin planning.
VOLUNTEER HOURS AT THE LOCAL HATCHERY:
If you need volunteer hours and are interested in working with our local hatchery please consider the following opportunity. Help is needed for a seining day at the Sooke River when staff captures and transports chinook salmon to the hatchery. Volunteers are expected to meet at the hatchery at 8:15-8:30 on Saturday, Oct. 7th. Volunteers can pick up waders or help with other tasks to prepare for seining the river. From the hatchery, volunteers will move to the Sooke River down Fisherman's Way road. Parking is available in the field down by the river. If that plan changes (mostly weather/rain related) volunteers will be notified. Contact Andrew Schell president of the Sooke Enhancement Society at amschell100@gmail.com
LUNCH AT EMCS: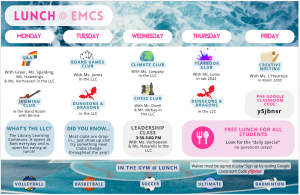 DIABETES CANADA STUDENT VOLUNTEERS NEEDED:
3-4 Student Volunteers required in support of Diabetes Canada for community bazaar
Date/Time: Saturday, September 30, 2023, 10am-3pm
Location: Shirley Community Hall, 2795 Sheringham Point Rd, Shirley (across from Shirley Delicious)
Requirements: Comfortable talking to people and comfortable making change
The bazaar will include new items and gift baskets; a new-to-you section (books, DVDs, puzzles, clothing, health & fitness, etc); silent auction; sponsor a kilometer; refreshments for purchase and an information table on diabetes.
Shifts wanted: a) morning 9:45-12:45 (2 students); b) afternoon 12:30-3pm (1 student), or anyone who would enjoy working the full day
Contact: Leslie Ann Bent, email rockingdiabetes@gmail.com to volunteer
VOLUNTEER TEEN MENTORS NEEDED:
Be a Teen Mentor for an Elementary School Student
Mr. Phipps is looking for Grade 10-12 students interested in volunteering as mentors for elementary school students at Saseenos this year. We are looking for volunteers who are reliable, honest, fun, and mature.
Volunteers must have good communication skills and be able to commit to seeing their little buddy at Saseenos once a week.  This is a fantastic experience for the high school mentors as well as the younger students they work with. If you would like to apply or want to find out more, see Mr. Phipps in the counselling office as soon as possible.
MENU FOR THE WEEK OF SEPTEMBER 25-28: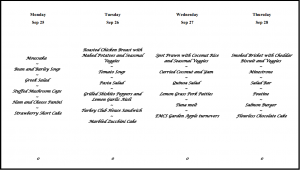 VOLLEYBALL BOTTLE DRIVE: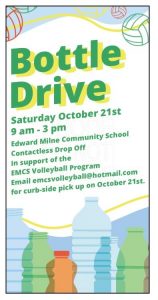 ORANGE SHIRT DAY:
Friday, September 29th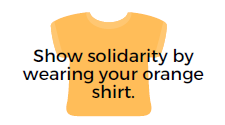 UPCOMING DATES TO NOTE:
September 29: Orange Shirt Day
September 30: National Day of Truth & Reconciliation
October 2: Stat Day (In Lieu of September 30)
FUTURE AND ONGOING INFORMATION
YOUTH PARLIAMENT OF BRITISH COLUMBIA: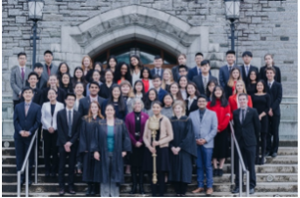 Applications are due October 23rd, 2023.  Applications can be delivered to the Career Centre.  The British Columbia Youth Parliament will hold its 95th Session in Victoria Provincial Legislative Chambers from December 27 to 31, 2023. The Youth Parliament is a province-wide non-partisan organization for young people ages 16-21. Members will sit and debate in the Legislative Chambers for five days and will be four nights at the Marriott Hotel in Victoria. Youth Parliament is a one-year commitment.  Registration cost is $425. This is an amazing event for any students wishing to enter politics, law, or business. Students connect with other ambitious young people from across the province. Edward Milne Community School has sent a student just about every year. Please contact the Career Centre for an application and information.
BABYSITTING COURSE: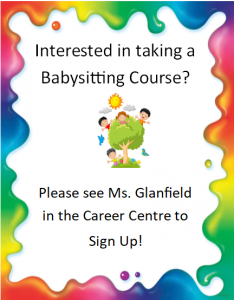 WELLNESS CLINIC: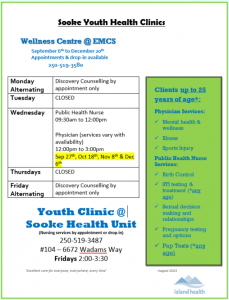 CROSS COUNTRY:
Interested in joining cross country?   Races start September 21 but sign up is ongoing until October 7th!  Cross country is a great way to:
improve fitness for other sports
meet new people at the school
become a faster runner
check out different places in Victoria
Sign up information is in room 2045, just inside the library on the left.  We look forward to running with you!!  Maggie Curtis and Elliot Brady
CAPSTONE 12 PROJECT:
A reminder to all grade 12 students that you must make an appointment to meet with Mrs. Cossentine to discuss your Capstone 12 project.
POST-SECONDARY AND SCHOLARSHIPS 2023-2024 GROUP:
Join the Post-Secondary & Scholarships 2023-2024 Group on the Wolverine App
Grade 10 to 12 students (and parents/guardians) interested in learning about post-secondary opportunities and scholarships throughout the year are encouraged to join the Post-Secondary & Scholarships 2023-2024 group on the EMCS Wolverine App.
VOLUNTEER OPPORTUNITIES: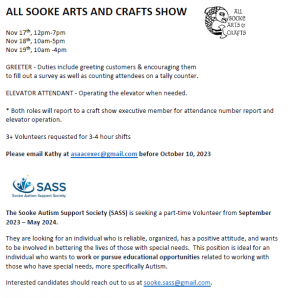 VEHICLE REGISTRATION:

Please fill out the online form at https://forms-reg.sd62.bc.ca/emcs_driver_reg.
SKILLS FOR LIFE CONCESSION STAND: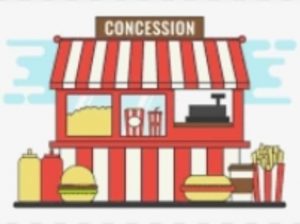 Skills for Life Concession is open every Friday and during cafeteria closures.  You can now purchase Concession Cards on Students' School Cash Online for $20 or purchase them at the concession stand.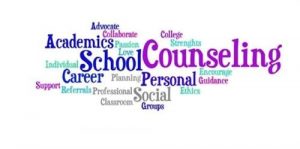 SUPPORT:
Students are encouraged to reach out to classroom teachers frequently for information and support. Students are also assigned a Vice Principal and a Counsellor:
Last names A–L:
Vice Principal: Mr. Todd Powell – tpowell@sd62.bc.ca
Counsellor: Ms. Jessica Crockett – jcrockett@sd62.bc.ca
Last names M-Z
Vice Principal:  Mr. John Mennie – jmennie@sd62.bc.ca
Counsellor: Mr. Allan Phipps – aphipps@sd62.bc.ca
Book an appointment with your counsellor on the EMCS website under the counselling tab.
THE CAREER CENTRE is open all day and is happy to assist you with your work experience hours, apprenticeships and resume/application processes. Feel free to book an appointment online at  http://emcs.web.sd62.bc.ca/students/career-centre/book-a-careers-appointment/. We look forward to seeing you.
KEEP IN THE LOOP: Remember to check our school website, school app, and the EMCS Newsletter, regularly for more information and updates.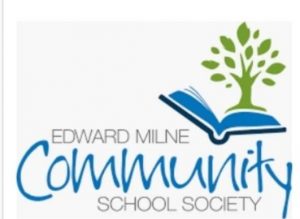 EMCS SOCIETY EVENTS AND PROGRAMS:
https://www.emcsprograms.ca/qi-gong Qi Gong Every Tues Sept 19th- Oct 24th
https://www.facebook.com/events/237437832500528/237441765833468/ Beginner Photography  Thurs Sept 21st– Oct 26th  6- 7 pm
https://www.emcsprograms.ca/foodsafe Food Safe Nov 4th 9 am-5 pm
https://www.emcsprograms.ca/first-aid First aid Sat Sept 30th & Oct 1st 9 am-5 pm
https://www.emcsprograms.ca/instagram-for-business Instagram for Business Class 4 classes Wed nights starting Sept 20th-Oct 11th  6-7:30 pm
https://www.facebook.com/events/1729128834198838 Make your own Gemstone Earrings Wed Oct 11th 7-9 pm
https://www.emcsprograms.ca/introduction-to-surfboard-crafting Intro to Surfboard Crafting Sat Oct 14th  10 am -2 pm
https://www.emcsprograms.ca/make-a-christmas-centrepiece Make a Christmas Centrepiece Sat Dec 9th  10 am-12 pm
We are looking forward to welcoming you back!
Please click on the link below to access the Welcome Back Letter which was sent to families on August 24, 2023.
Welcome Back EMCS Families 2023
Our office is now open to help support students and families.