Menu for the week of Sept 25-28, 2023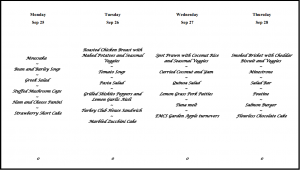 The EMCS Culinary Arts program prides itself on providing delicious, made from scratch lunches for the Edward Milne community.  We start with fresh local ingredients whenever possible and build our meals from the most basic raw elements, such as hand-milled flour to make baked goods or house smoked meats, and produce from our school's garden. By following these principles of farm to table, we produce food that not only tastes better, but is better for you.
---
---
~Chocolate Beet Cakes with Candied Beets~
Ingredients for Beet Cakes:
• 1 1⁄2 cups whole wheat pastry flour
• 3⁄4 cup cocoa powder
• 1 tsp. cinnamon
• 1 tsp. baking soda
• 1 tsp. baking powder
• 1⁄4 tsp. salt
• 1 tbsp. espresso powder
• Pinch of salt
• 11⁄2 cups beets roasted and grated • 1⁄2 to 3⁄4 cup agave / maple syrup • 1⁄2 cup prune puree
• 1⁄4 cup coconut oil
• 1⁄2 cup yogurt
• 2 eggs
• 1 tbsp. vanilla
Ingredients for Candied Beets:
• 2 beets peeled and trimmed (1 yellow & 1 red) • 3⁄4 cup water
• 3⁄4 cup sugar
Beet Cakes: Preheat the oven to 350 degrees F. Grease 10 3-4 inch ramekins and dust lightly with cocoa powder.
In a large bowl, sift together all the dry ingredients. In a separate large bowl, whisk the eggs until fluffy. Add the rest of the ingredients and mix until combined. Slowly add the flour mixture to the wet ingredients stirring to incorporate. Mix just until combined. Distribute the batter evenly into the ramekins (approx. 1/3 cup of batter in each one). Alternatively you can use this recipe to make a 9-inch cake. Next, bake in the oven for approx. 25 minutes or until done. Cool on a wire rack for 10 minutes, before gently removing from the ramekins to cool fully. Garnish with chocolate curls and candied beets or fresh fruit and enjoy!
Candied Beets: Using a mandolin, slice the beets VERY thin. In a small saucepan over medium heat, combine the sugar and water. When it comes to a boil and the sugar is dissolved, empty the yellow beets into the liquid and simmer for 20 minutes. The beets will be slightly translucent. Remove from the liquid and lay on parchment or a silpat. Repeat process with the purple beets (these go second because the colour will not be affected by the yellow sugar syrup from boiling the first batch). Reuse the sugar syrup as you might need to add a bit more sugar and water to make sure that the liquid covers all the beet slices! Let the beet slices dry for a bit before dredging them lightly in sugar. Let dry completely and enjoy!
---
Here is a recipe for a  homemade canned Salsa (Medium-hot)

8 cups very ripe tomatoes, cored & chopped (no need to peel or seed)
2 1/2 cups yellow onions, chopped
1 1/2 cups mild green Anaheim-type peppers, chopped
1/2 cup jalapeno peppers, minced (use gloves so you don't burn)
1 canned chipotle chili or fresh cayenne pepper
6 cloves garlic
2 1/2 teaspoons cumin
2 teaspoons black pepper
1 Tablespoon sea salt
1/3 cup white vinegar
15 ounces tomato sauce (homemade or from the store)
12 ounces tomato paste (homemade or from the store)
juice of 1 lime
1/4 cup fresh cilantro, chopped
Chop tomatoes, onions, peppers, garlic and chipotle chilis by hand or in a food processor. Make it as chunky or fine as you like. In a large non-aluminum pot, mix everything together except the lime juice and cilantro.
Bring the mixture to a boil. Continue boiling 10 minutes, stirring occasionally. Remove from heat and stir in lime juice and cilantro.
Fill six pint jars (or your choice of jars) with hot mixture. Wipe rims and add lids and screw-bands. Process in a boiling water bath for 15 minutes. Make sure the boiling water is deep enough to cover the jars by at least one inch, and start timing when the water returns to a boil after adding the jars.
Makes about 3.5 quarts (7 pints). Check the jar seals. If any haven't sealed, you get to eat that right away! Keeps in the fridge for several weeks once opened.
If you want a very mild salsa, start by omitting the chipotle and removing the seeds from the jalapenos. Once the mixture has cooked for about 5 minutes, give it a taste, and season to desired "hotness" by adding the jalapeno seeds and chipotles . The recipe as listed makes a medium-hot version.