Donations to the A.C.E. Scholarship can be made online by visiting: https://sd62.schoolcashonline.com/.  Please selection the "Fund Destination" (for example, "EMCS" or "A.C.E. Scholarship") and add specifics in the "Message" box (i.e. "for EMCS Band Program"/"for EMCS Grad"/"in memory of"/ etc) you wish the funds to go to, and a tax receipt will automatically be generated.  You will be required to create a school cash online account in order to complete the transaction, but are not required to have a student attached to your account.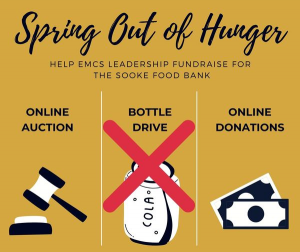 Our annual spring fundraiser for the Sooke Food Bank will be taking place over two weeks from April 26- May 7. Due to COVID-19, this year we will be accepting monetary donations rather than food donations. Monetary donations provide the food bank with the flexibility to meet people's most immediate needs, and every $1 donated equals up to $3 worth of food with their buying power.  Our Spring Out of Hunger Campaign for the Sooke Food Bank will still include our online donation link and online auction. Please see below for details:
1) If you would like to make an online donation, please click here.  You do not need a School Cash Online account to make a donation and may continue as a guest when checking out. Please ensure the fund destination is to Spring Out Of Hunger. This link will be open from now until May 7.
2) Please check back on Facebook (@springoutofhunger) on Monday, April 26 to view our online auction! We are excited to have 25 items up for bid that were donated by incredible local businesses.
Thank you for your support!
If you have any questions please don't hesitate to contact our office at 250-642-5211 or emcs@sd62.bc.ca