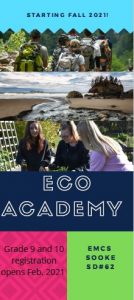 What is the EcoAcademy?
The ECO Academy is an exciting new cohort-based academy that explores scientific and food systems issues alongside skills associated with ecology, community, and experiential place-based learning! It is open to all Grade 9 and 10 students. Students will actively participate in an immersive interdisciplinary program, focused on the central themes of Eco-literacy, Community, Experiential Learning, and Global and Local Food Systems. Learning will be rooted in curricular outcomes, with high standards for extending inquiry, collaboration, and self-direction. Learning programs will be aligned with the seasons and local Indigenous 13 Moons calendar. Students will earn credit for the following courses: Science 9 or 10 (MSC—09ECO or MSC—10ECO, respectively); Foods STX 10 (MFOOD10ECO).
This program will take place in the 4th Quarter, Spring of 2023 at Edward Milne Community School. Our school is surrounded by an incredible local community, and next to the ocean, forests and mountains.
Who is this for?
ECO Academy will be a good fit for grade 9 and 10 students who enjoy learning in nature, working together to address real world issues, contributing to community, and learning through hands-on experience
Cost? 
Scholarships will be available. Students can register through the Sooke School District Academy Site. Secondary Academy registration will open at 6:00 am on February 8th, 2022 Middle School Academy registration will open at 6:00 am on March 8th, 2022.
What does the learning environment look like?
In a usual week, students can expect to spend 60% of their time in a traditional learning environment (a classroom or lab). The remaining 40% will be actively integrated learning in a variety of settings; hiking forests and beaches, growing and preparing healthy and delicious food from a variety of cultures, working together in Community Service Learning, and combining this experience with deep academic inquiry.