Most school fees, as outlined below, are attached to the individual student through School Cash Online at sd62.schoolcashonline.com.  To set your student up in School Cash Online please see the instructions here: https://www.sd62.bc.ca/parents/school-fees
If you are unable to see any items , please contact our office.
---
SD62 School Fee Schedule 
Secondary Schools Fee Schedule 2023-24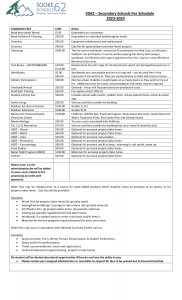 Other fees will be levied for events in which you choose to participate throughout the school year.  For example, Prom, Grad Ceremony, Conferences, Tournaments.
No student will be denied educational opportunities if they do not have the ability to pay. Please contact your assigned administrator or counsellor to request for fees to be waived due to financial hardship.
Athletics FEES 
Each athlete must pay a one-time fee of $50.00 per year which is available to pay through School Cash Online at sd62.schoolcashonline.com.
EMCS is a member of two high school sports organizations: BC School Sports (BCSS) and Lower Vancouver Island Secondary School Athletics Association (LVISSAA). Athletic fees ($50.00) cover BCSS membership and are also used for sports equipment, awards, uniforms and sports banquets.
TEAM-SPECIFIC FEES – Additional fees are approved by the School Board and help cover the cost of travel, tournament entry and accommodation. These fees are sport specific and may be requested to support additional competitions.
UNIFORM CHARGES – Athletes are responsible for washing and keeping care of their team uniforms. These must be returned to their coaches at the end of the season. We will not be collecting uniform deposits this year, however, any student that does not return their uniform will be charged $200.
Academy Fees
Can be paid on-line by following this link: https://www.sd62.bc.ca/programs-services/academies
Questions regarding Academies please contact Jennifer Nolin at jnolin@sd62.bc.ca
School Bus
To register for the school bus please follows this link: https://www.sd62.bc.ca/our-district/transportation