Most school fees, as outlined below, are attached to the individual student through School Cash Online at sd62.schoolcashonline.com.  To set your student up in School Cash Online please see the instructions here: https://www.sd62.bc.ca/parents/school-fees
If you are unable to see any items , please contact our office.
---
SD62 School Fee Schedule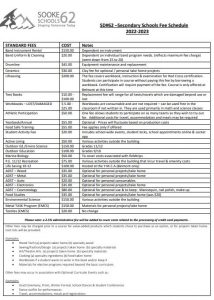 Other fees will be levied for events in which you choose to participate throughout the school year.  For example, Prom, Grad Ceremony, Conferences, Tournaments.
No student will be denied educational opportunities if they do not have the ability to pay. Please contact your assigned administrator or counsellor to request for fees to be waived due to financial hardship.
Uniform Deposit Fees
Please make cheque payable to SD #62.
Cheques will be kept in the office until the deadline date and then returned to the student upon the return of their jersey.
Academy Fees
Can be paid on-line by following this link: https://www.sd62.bc.ca/programs-services/academies
Questions regarding Academies please contact Jennifer Nolin at jnolin@sd62.bc.ca
School Bus
To register for the school bus please follows this link: https://www.sd62.bc.ca/our-district/transportation