There are so many wonderful events coming up at our school over the next two weeks – the Winter Concert, 10 000 Tonight, the Grad Skate and Santa's Breakfast! We are looking for perishable food items and volunteers for 10 000 Tonight. This events supports our community and is also a fun evening! Please see below for more information.
While there can be lots to celebrate this time of year, it can sometimes be hard to take care of our health in winter. Getting outside and engaging in regular physical activity is important. It is equally important to take care of our mental health, and to make sure that we take care of one another in our community. Never hesitate to reach out to your school counsellor (Ms. Jesson A-L and Mr. Phipps, M-Z). They are highly trained to support you and assist you in seeking additional resources. Scroll down to access more links to resources to help you access help, including links to 24/7 helplines and tools to help your student report a problem to an adult.
10 000 Tonight
The entire EMCS community is excited about 10,000 Tonight and we are reaching out to the public to ensure its success. This year, we have a particular need for volunteers along with donations of nonperishable items. Early donations can be dropped off from now until Dec.11 in the EMCS front office, and there are donation boxes for non-perishables throughout the community. Cash donation tins can be found at both Village and Western Foods with all donations collected going directly to the Sooke Food Bank. If you are not able to access a donation box, the EMCS Leadership class along with volunteers will be canvassing many Sooke neighborhoods on December 13th. Your support in helping us reach our goal of 10,000 items is much appreciated!
If you would like to volunteer for the event, please email emcs.tentonight@gmail.com or visit https://tenthousandtonight.weebly.com/ to sign up. If you would like to drive, please contact the office for the necessary requirements.
Recognition & Congratulations
Thank you to our Leadership Class who supported the Sooke Santa Parade on the weekend!
EMCS LEadership students Allana and Marin accepting a $500 donation for 10,000 Tonight Food Drive from CUPE 459 members PJ T, Evelyn H., and Donna E., three of our supervision assistants.  For every cash dollar donated the Food Bank is able to purchase $3 worth of food.  Please consider a cash donation today!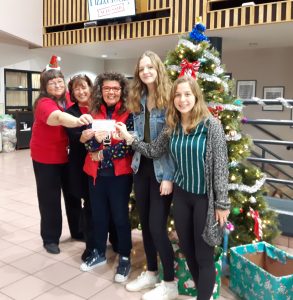 Wolverine Classic – Support the EMCS senior boys basketball team next Friday December 13th as we host our annual basketball tournament!
Friday 9:00 am: EMCS– Royal Bay and 3:00: EMCS – Shawnigan Lake
Saturday  6:00: EMCS– Ladysmith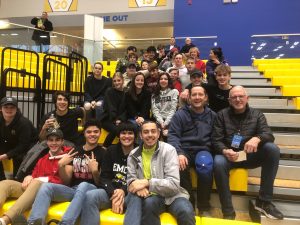 Thank you to our Sustainability, Textiles, and Arts classes for the wonderful Pop-Up mARTket!!!  It was a hit with students and staff alike!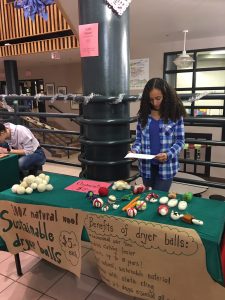 Information for all Parents/Students
Here are some useful resources if you or your student feel that you need support:
It's less than a week until the EMCS Music Department's Annual Winter Concert! We hope you will join us on Dec 12 @ 7 pm at the EMCS Theatre.  Songs of the season, concert band classics, and solos / small ensemble pieces by talented student musicians will be shared.  A night not to be missed!
– Bake Sale Concession provided by band  parents
– Admission by Donation
All funds raised will go to our musical equipment fund
Please check out our event on Facebook: https://facebook.com/events/535622003927266/?ti=icl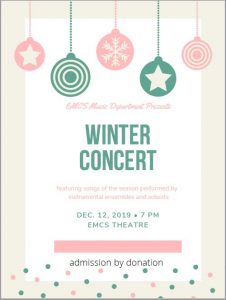 Inclement Weather – Now that winter is upon us, please review the School District procedure, listed below, regarding school closure due to weather or other conditions. Please also note that all guardians must provide an EMERGENCY RELEASE FORM that lists a local contact who can pick up and care for your student in emergency situations, including road closures and severe weather. We have extra printed copies in the office if needed.
Schools in School District #62 (Sooke) will generally be open for students and staff on all prescribed school days; however, circumstances (snow, flooding, etc.) could arise causing closure.  This will be determined by the Superintendent in consultation with staff and other officials.
For snow or other emergency closures prior to school opening:
The Superintendent is advised by the Transportation Department that the roads are in poor condition and it is inadvisable to run the buses.  Parents will be advised that, although schools are open:

the choice to bring children to school safely is a parental choice.
it won't be a normal instructional day because buses are not running, and some staff may not be able to report to work.

The Superintendent may make a decision to close schools for students and staff.  Media contacts are made by the Superintendent or Secretary-Treasurer.    Closure announcements will be made as close to 6:30am as possible.
The EMCS Community theatre is fundraising for new theatre seats –
These chairs will be auctioned off at successive events throughout the school year, and will also be available through silent auction in the school office.  A donation of $300.00 or more will remove the chair from the auction list and it will be yours!
Opportunities for All!!
EMCS Menu for week of December 9th
For Grade 12 Student Families
Planning for Post-Secondary – This week, our series of EMCS post-secondary info nights concluded with a visit from Royal Roads University.  This year we had evening presentations for students and parents from: University of Victoria, Camosun College, Vancouver Island University, University of British Columbia, University of Alberta, and Royal Roads University.  Grade 12 students planning to start post-secondary studies in September should apply now if they haven't done so already.  For more information please visit the Post-Secondary page under the Students tab on the EMCS website.  Students are also encouraged to see their School Counsellor with any questions.
Transcript Verification Reports – Last week, counsellors mailed home Transcript Verification Reports (TVRs) along with other important information for Grade 12 students and parents/guardians.  The TVR should be reviewed carefully and returned to the office with student signature.  Please contact the appropriate school counsellor if any information on the TVR is incorrect.
It is time to book your grad portraits! Lifetouch will be at EMCS from January 13-17, 2020 and appointments must be booked in advance. To book your appointment, visit schedule.prestigeportraits.ca. Please contact Lifetouch at 250-744-4100 with any questions or concerns.
Grade 12 parents needed to chaperone the Grad Skate! This will take place at Seaparc on Wednesday, December 18th from 1:30 to 3:00. Please contact Reisha Williams at rwilliams@sd62.bc.ca as soon as possible if you are available to help out.
Information from the Career Centre
It's not too late – register now for TASK for second semester!  This can be a great part of your Grad Plan, and helps build many useful skills for life, and/or a career in the Trades.  Make an appointment with your counselor to discuss it today!  Click here for more information.
The Legislative Assembly is currently recruiting Summer Tour Guides and Parliamentary Players.  Detailed job descriptions can be found on the Legislative Assembly's website. The application deadline for both competitions is Friday, January 10, 2020.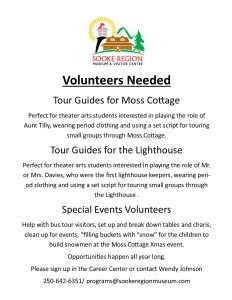 Interested in more volunteer or career opportunities?  Check the Daily Student Announcements on our website or app or with the Career Centre!
Important Upcoming Dates
December 11th – 10 000 Tonight Food Drive
December 12th – EMCS Band Winter Concert at 7pm
December 17th – PAC Meeting, all parents welcome!  6:30pm
December 18th – Grad Skate
December 19th – Locker Clean Out during "C" block
December 20th – Santa Breakfast & last day of class before Winter Break
Today
EMCS LEADERSHIP is planning their 5th annual 10 000 tonight food drive to raise non-perishable food items for the Sooke Food Bank. All students please bring in non-perishable donations to your B BLOCK class between November 18th and December 11th. The winning class will get a pizza party! The event is on Wednesday, December 11th from 5-9 pm in the EMCS foyer. Volunteer sign-up sheets are in the office for any students that want to participate (it is a great way to gain those volunteer hours!)
EMERGENCY RELEASE FORMS: All students who have not yet handed in their Emergency Release Forms have received another copy to bring home to please have filled out ASAP. These forms are very important for us to have in case of Emergency/Disaster situations. Even if your student attended last year, we need a new form filled out every year. All students must have a local contact who can care for them in emergency situations, including road closures and severe weather. We have extra printed copies in the office if needed.
Upcoming
YCI MEETING ON TUESDAY: Friendly reminder that we have a meeting on Tuesday, December 10th at lunch in room 2033! Members are expected to attend in order to help paint the banner for our upcoming clothing drive.
GRAD SKATE! Consent forms must be returned to Ms. Williams by Tuesday, December 17th if you want to attend. Ms. Williams also has extra copies in the teacher prep room upstairs (2036).
EMCS BAND WINTER CONCERT: Thursday, December 12th @ 7pm
Admission by Donation.
Songs of the Season with Ensembles and Solos presented by our talented student musicians.
Please check out our event on Facebook:
https://facebook.com/events/535622003927266/?ti=icl
TEEN MENTORS NEEDED (Mr. Phipps): We are looking for Grade 10 to 12 volunteers to be mentors for students at Saseenos Elementary School as part of the Big Brothers Big Sisters Teen Mentorship.  Make a difference in the life of a young student by spending one hour per week with a little buddy at Saseenos. Mentorship usually happens right after school on Friday so you don't need to miss any class time.
Ongoing
HAVE YOU CHECKED YOUR MY ED STUDENT PORTAL LATELY? Report cards have been published! Please check to make sure you can access yours. https://www.myeducation.gov.bc.ca/aspen/logon.do
THE POLITICAL SCIENCE CLUB: Meets every Thursday in room 2039 at lunch. Students of all political tendencies and thoughts are encouraged to come to discuss their thoughts and beliefs on current events and world politics with their fellow students."
STUDENT ATHLETES: Please complete your 2019-20 Athletics Package.  You need to have it complete before you can play. They are in the office. 
ABORIGINAL SELF IDENTIFICATION FORMS need to be returned to the office please.
ALL STUDENTS: Make sure you have subscribed to your classes on the Wolverine App! Important updates and information are sent out this way.
SENIOR BOYS BASKETBALL: Wednesdays, 7 – 9 pm, Fridays, 3 – 4:30 pm and Saturdays 1:00 – 2:30 pm and 7:30 – 9 pm.
GIRLS BASKETBALL: Girls' basketball practice on Thursdays from 3:15-5. All girls are welcome to come to the practice.
MUSICAL THEATRE: Every Wednesday at Lunch – Vocal Rehearsal – Senior and Junior Cast.
ROBOTICS CLUB (Mr. O'Shea): Tuesdays after school in the Electronics Class, Room 1094.
GAMES CLUB (Mr. O'Shea): Thursdays after school until 5:00 pm in the Electronics Class, Room 1094.
YCI: Club meets Tuesdays at lunch in room 2033. Any students interested in creating social change are welcome! See Mr. Berlando or Ms. Williams for more information.
BAND (Ms. Parliament):  Mondays 3:20 – 4:20 pm. Wednesday & Fridays 7:45 – 8:35 am.
GISP (Global Intercultural Skills Program) (Ms. Williams):  Focus Block and Lunch as necessary.
GRAD COUNCIL (Ms. Williams): Thursdays @ lunch in room 2033.
LEADERSHIP (Mr. Powell and Ms. Verhoeven):  Thursdays 7:30 – 8:30 am.
SUPERFIT (Mr. Barrie):
Super Fit Weight Room hours:
Monday to Thursday at Lunch
Monday 3:15-4:30
Wednesday 7:45-8:40
CAR PASSES/PARKING PERMITS: Students need a new car pass for the 2019-20 school year.  Please see Mr. Lyall asap.
Information from the Career Centre
SOOKE REGOIN MUSEUM & VISITORS CENTRE: Volunteers needed for Tour Guides for Moss Cottage, Tour Guides for the Lighthouse and Special Events Volunteers. Opportunities happen all year long, please sign up in the Career Centre or contact Wendy Johnston at 250-642-6351 or at programs@sookeregionmuseum.com
TASK: We are still looking for 2-3 students for TASK for semester two!  Please see Sue Percival in the Career Centre.
THE SEAPARC COMMISSION: Is seeking a youth appointee to join the commissioners and SEAPARC at monthly meetings where Sooke's youth programs at the recreation centre are discussed. The commission meets approx. nine times per year at SEAPARC.
SOOKE REGION COMMUNITIES HEALTH NETWORK: Are looking for a youth representative to share perspectives on what teens would like to see in a senior/youth center being considered. Meetings are the 2nd Wednesday of each month at 10:30 a.m. Location varies.
JOIN THE HOUSE OF COMMONS PAGE PROGRAM: Work at the heart of Canada's democracy with students from across the country. Please see the Career Centre for more info.
JDF FIRE/RESCUE CADET CAMP: For teens ages 15-18. March 16th – 21st 2020.
Students can contact the Career Centre for an application. Great opportunity for those students interested in a career as a firefighter.
AMBER ACADEMY: An after school program for elementary school students involving Choir, Art and Acting is looking for volunteer Instructor Assistants. Please see the Career Centre Volunteer Board in the Career Center to apply.
INTERESTED IN LIFEGUARDING? Check out the classes available at Seaparc!
For Grade 12 Students
IT IS TIME TO BOOK YOUR GRAD PORTRAITS! Lifetouch will be at EMCS from January 13-17, 2020 and appointments must be booked in advance. To book your appointment, visit schedule.prestigeportraits.ca. Please contact Lifetouch at 250-744-4100 with any questions or concerns.
GRADE 12 TIMELINE:  A month-by-month "to do" list and important dates are available on the EMCS website.  See the Grade 12 Timeline under the Students tab.
SCHOLARSHIPS & BURSARIES: Grade 12 students interested in regular updates regarding scholarships and bursaries, please join the Scholarships group on the Wolverine app.
Scholarship information is also available on the EMCS website under the Students tab, ….Grade 12 Information, ….Scholarships Bursaries & Student Loans.