EMCS Weekly Message for January 18th, 2019
 Come one, come all – EVERYONE is welcome at our EMCS Open House!  Our annual Open House is scheduled for Thursday, January 24th, from 6:00 to 7:30.  It is an opportunity for ALL students, incoming grade 9's, new registrants, and current students, along with their parents, to become familiar with the offerings at EMCS, in preparation for the 2019-2020 course selection process, which begins in FEBRUARY.  Representatives from the University of Victoria, and Camosun College will be in attendance to answer questions about post-secondary requirements.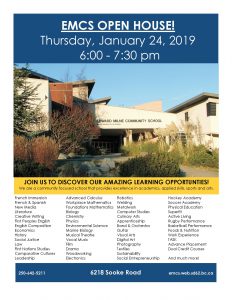 Recognition & Congratulations
Congratulations to our Senior Boys' Basketball Team for their win in the Port Alberni Tournament last weekend, and their win against Stelly's on Tuesday!!!
And Final Projects Night was a success!!!  Thank you to all the students and staff who made it possible, and to the parents, families, and friends for being such a spectacular audience!  Art in every medium was showcased in the lobby, and skits and short films were presented to a full house!
Information for All Students
Reminder – No formal classes are running on January 22nd and 23rd.  Students should be in close communication with their teachers about expectations and opportunities for these two days. Exams are starting January 24th – please see the schedule below.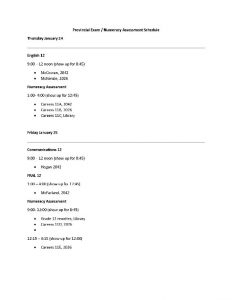 Students will receive new timetables on January 28th when we begin Semester 2. Any students who have pressing concerns about their schedules for Semester 2 can fill out a schedule change request form in the front office. Please note that course changes are usually only made for students with incomplete schedules, who need a course to meet graduation requirements, or grade 12 students who need a post-secondary prerequisite.
Interested in playing for the EMCS Rugby team?  Boys & Girls meeting Wednesday January 30th Fish Bowl at Lunch Rugby Class: Wednesdays Focus Block starting February 6th/Fridays 715am – 830am starting February 8th.
Important Information for Grade 10 and 11 Students
Students are encouraged to log on to their myBlueprint account to research careers and post-secondary options.  myBlueprint provides information about high school courses required for entry into various post-secondary programs. Our Counsellors and Careers Teachers are also here to help.
Important Information for Grade 12 Students
Important Information About Giving Post-Secondary Schools Access to Your Transcripts – Students interested in attending the University of British Columbia, Simon Fraser University, Vancouver Island University, University of Fraser Valley and Thompson Rivers University, are now able to authorize post-secondary schools to receive interim and final marks updates throughout the year. If you have applied to one of these universities, please book an appointment to see your Counsellor to ensure you've set this up correctly on your STS (Student Transcripts Service) account.
Explore UVIC
Saturday, February 2 at the University of Victoria
Tour the campus
Learn about student life
Attend a lecture
Speak with staff
Attend a recruitment presentation
*Register at:  uvic.ca/explore
Attachments
And last but not least – EMCS Society's Upcoming Programs!
Important Upcoming Dates
January 24th – OPEN HOUSE 6-7:30pm
January 22nd-25th – No scheduled classes. Examinations and final projects.
January 28th – Start of semester 2
February 4th – Report cards published in the My Education BC Portal
February 6th – Cafeteria re-opens
February 13th – PAC Meeting at 6:30pm
February 15th – Non-Instructional Day
February 27th – Hockey Banquet
All students, please check the portal today to see your semester 2 schedule ('My Info' at the top and 'Current Schedule' at the side. Students can select 'S2' in the drop down menu). Fill out a course change form (available in the main office or online) this week if they require a change. Not all changes can be accommodated. Students with incomplete schedules, who need a course to meet graduation requirements, or grade 12 students who need a post-secondary prerequisite will be prioritized. All students will receive a new semester 2 schedule on January 28th – some alterations may be made to balance class sizes.