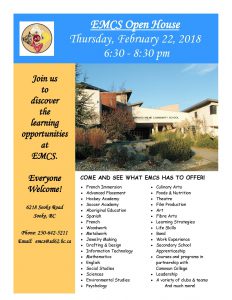 Click on photo to enlarge
---
---
Daily Announcements for Tuesday, February 20th



Important For Today
Course Selection Presentations for 2018-2019
Mr. Phipps will be meeting with students in the theatre to go over course selection for next school year.  Students will report to class for attendance as usual and then come to the theatre when called down over the PA.
The schedule is as follows:
Grade 10 Students:  Tuesday, February 20, D block
Grade 9 Students:  Wednesday, February 21, 2nd D block
Strengthening Connections – February 20th 1pm EMCS Library
Strengthening Connections is a group of Aboriginal recruiters and advisors from several BC post-secondary institutions with the mandate to provide Aboriginal peoples in BC with the information they need to successfully pursue a post-secondary education. Although Strengthening Connections members hail from individual institutions throughout BC, we work as a team across institutional lines to assist those we serve in finding the best options for them.
ATTENTION ALL GRADE 12 STUDENTS: This is the last call for measuring your height for graduation gowns. Please head to the career and counselling center as soon as possible to get this done!
A reminder to all Grade 12's,  if you have not turned in the first six assignments of your Grad Transitions course, they are now overdue!  All the Grad Transition assignments are due April 10, if you hope to make the first grad list. Please bring your completed assignments to the Career Centre.
Career Cruising – Students who haven't turned in their Career Cruising consent form to the office, please do so as soon as possible.  We will be using Career Cruising for course selection.  Forms are available in the office and on the EMCS website.
UVIC Seeking Input from Grade 12 students – UVIC is redesigning their website and they are looking for advice and ideas from you!  Two members of UVIC's Communications and Marketing department will be at EMCS on March 6 and would like to meet with a group of 5-8 Grade 12 students over lunch hour.  Pizza will be provided.  If you are a university bound student (not necessarily UVIC) and would like to share your ideas, please see Mr. Phipps.
Exciting Opportunities Sponsored by the Rotary Club of Sooke for Grade 11 & 12 Students
Please let Mr. Phipps know by email (aphipps@sd62.bc.ca) as soon as possible if you are interested in any of the adventures described below. If multiple names are brought forward, Rotary Club representatives will conduct interviews to decide who they sponsor. All costs (registration, transportation, meals, accommodation) are covered by Rotary Club of Sooke. Thank you to the Rotary Club of Sooke for offering this amazing opportunity to our students.
Rotary Youth Leadership Award
When: March 15 ‐ 18, 2018
Where: Tacoma, Washington
The Rotary Youth Leadership Awards (RYLA) is a truly exciting opportunity for Grade 11
students to participate in a four day, leadership camp with like‐minded individuals where they
will form lasting friendships, hear from professional speakers, develop as leaders, grow as
individuals and have fun!
RYLA is a life changing event that takes place at Pacific Lutheran University in Washington State
offering a fully equipped facility with dorms, theatre, presentation rooms, and spectacular
meals.
Adventures in Technology
When: late April 2018 (dates to be determined)
Where: Saskatoon, SK
Adventures in Technology is a four and one‐half day exploration of advanced technology,
research, development and applications. During their visit, students will be able to open the
doors to an exciting array of some of Canada's finest corporations and research facilities,
including the University of Saskatchewan, Innovation Place Research Park & the Canadian Light
Source Synchrotron to name just a few. Of course, the students will also be treated to the best
in Saskatchewan hospitality and have the opportunity to make new friends from across the
western provinces.
Adventures in Health Care
When: May 7 ‐ 10, 2018 (travel May 6 & 11)
Where: Prince George, BC
This event provides a unique opportunity for a selected group of young Canadians to come
together to gain a better understanding of what healthcare means to them today and in their
future. Through hands on activities in medical training facilities, as well as college and
university laboratories, students will come away with a better understanding of health care
careers. There is an online training course that students must complete before attending this event.
CAREER CENTRE: Volunteering, Apprenticeships, Jobs and Opportunities
TNT Paintball is looking for Splat Ball Party assistants. Parties are held on weekends. Applicants need to be reasonably physically fit and enjoy working with younger children. TNT Paintball is located in Metchosin close to Becher Bay.
(250-658-1177info@tntpaintball.com)
or
Free Camosun College Career in Business Tour on Wednesday, February 21st. Learn about Business programs, meet the Profs and engage in a fun hands on activity. Transportation provided. Permission slip required. See Career Centre for details.
Seedy Saturday – Students interested in volunteer hours and the world of plants and food gardens have their choice of a wide variety of volunteer positions with this year's Seedy Saturday on February 24th. Sign up in the Career Centre.
Get your resumes ready !! ! Edward Milne Career Centre is hosting a job fair March 7th from 10:30 to 12:30 in the Commons.  There will be 21 exhibitors  from a variety of industries ready to take your resumes, or enlighten you on a career path.
The Career Centre, in partnership with Camosun, is hosting a series of one day, free, transportation provided, tours of the Camosun Business Department, The Technology and Information Computer Systems Department and the Women in Trades program. Sign-up sheets and permission forms are in the Career Centre.
For those students interested in animation there is a week-long opportunity during Spring Break with Animal Logic Animation Studio in Vancouver.  Please see the Career Centre.
There are several volunteer opportunities available including one involving orcas, art and ecology. Sign-up sheets in the Career Centre.
All students registered in Work Experience need to return their paperwork to the Career Centre. Please connect with your employer to get their signatures.
Weekly Job Postings – please check out the bulletin board outside the Career Centre.
Needing to create or update your resume? –  the Career Centre is here to help. Adding a cover letter to your resume/application is a great way to stand out in the crowd as well.
SCHOLARSHIPS & BURSARIES
Scholarship & Bursary Information Updated
The EMCS scholarships/bursaries database was updated February 18.  The database contains over 100 scholarships and bursaries.
Scholarship and Bursary Applications Due in March
Sooke Minor Hockey Scholarship
Vancouver Island Amateur Hockey Scholarship
Trevor Linden Community Spirit Scholarship
BC School Trustees Association Student Citizenship Award
BC Soccer Scholarship
Quest for Excellence Bursary
Grade 12 Checklist – The EMCS Grade 12 Checklist is a month-by-month list of important things to do.  The checklist is available on the EMCS website.
ONGOING
Monday
Grad Council – meeting at lunch in room 2033
Elder Linda Bristol is here from 10:15-3:15, bring your own mug and join her for tea at lunch.
Rugby Practice – boys and girls Monday & Thursday after school for the month of February.
Wednesday
Wellness Clinic – 12-3:30pm
The EMCS Library – will not be open on Wednesdays for the rest of the term during lunch.
Band – will be rehearsing today after school.
EMCS Tech Team meets every Wednesday after school in the theatre.
Thursday
Band – will be rehearsing today at lunch.
EMCS Debate Club meets at lunch in room 2038.
Rugby Practice – boys and girls Monday & Thursday after school for the month of February.
---