Student Announcements
Monday, November 19th, 2018
Upcoming
Spirit Day –  Spirit Day has been rescheduled for Friday November 30 12:00-12:45. More information will follow.
Student Information
There is a mandatory meeting on Wednesday, Nov. 21st at lunch in the learning support room for all those students going to We Day on the 22nd.
 Volunteer Opportunities (details in the Career Center) –
And volunteers are needed for November 28th from 8:30-10:30 here at EMCS to organize and monitor students receiving their vaccinations.
4-6 volunteers are needed to bus tables for the Amber Academy's second annual gala (a fundraising event) on December 1st, from 6:00 to 9:00 PM. Duties include removing dishes from tables and placing them in the racks in the kitchen (no dishwashing involved).  Helping with the youngsters backstage would also be helpful!
Students interested in Journalism and Social Media have the opportunity to learn with the Sooke News Mirror.  This volunteer position will offer the chance to create and publish articles and cover events of interest to Sooke youth.  Other duties will include designing and updating the on line presence of the paper through social media.
University of Alberta
Information & Application Night
Thursday, November 29
7:00 pm
Room : TBA
The Prime Minister's Youth Council is receiving applications until November 30th. If you are a Canadian youth between the ages of 16 and 24 and are interested in contributing your perspective to our Federal government through meetings and events please apply on-line by clicking here, or Google "Prime Minister's Youth Council" for more details. Travel expenses are covered for all accepted members. Please see Ms. Percival with questions.
For students interested in the technology field, the University of Victoria is holding an event called UX Day, and the 2018-2019 HighTechU application period will launch on Saturday, December 1st from 10am – 4pm.  This event is open to both Parents and Students looking to find out more about the program. Please visit the following link to review "High Tech U": https://www.hightechu.ca/ and to register for this event.
 EMCS Band Winter Concert December 6 @ 7 pm. A night of festive music.
Admission by donation. Let's fill the theatre and cheer on our hard-working student musicians.
Biology / Calculus Dual Credit students: please bring your signed parental consent pink sheet to the office, attention Debbie Israel.  Please forward your receipt to Mr. Lyall at jlyall@sd62.bc.ca
Reminder to grade 10s and 11s to complete your Careers assignment for you next Careers focus block and to regularly be adding artifacts to your digital portfolio.  Please go see your careers teachers if you have any questions about the assignments.
TASK applications for second semester are now available in the Career Center. Please book an appointment with your counsellor to ensure you are able to apply.
All students: Make sure you have subscribed to the Wolverine App! Important updates and information are sent out this way.

Ongoing Sports & Clubs
Mondays
Super Fit Performance Class – weight room 7:40-8:40am
Sports Performance Basketball meets every Monday morning 7:30am start.
Floor Ball Intramurals – lunchtime  (sign up sheet is outside the PE Office)
Gaming Club – after school in 1094. Drop in and come play games like Magic Cards, Dungeons and Dragons, Warhammer, etc.
Band 3:30-4:30
Robotics after school in 1094
Tuesdays
Grad Council at lunch in room 2039.
Cross Country practices 3:15 – 3:45. All grades are welcome.  Staff are welcome to come join the run.
Wednesdays
Band meets from 7:45-8:35 am
Floor Ball Intramurals – lunchtime (sign up sheet is outside the PE Office)
Sports Performance Basketball right after school 3:15 start.
Super Fit Performance Class – weight room 3:15-4:15pm
EMCS TECH Team meets after school
 Fridays
Band meets 7:45-8:35 am
EMCS WEEKLY MESSAGE FOR November 16, 2018
 The second term has begun and the next five weeks until Winter Break will be full of opportunities to build on success from the first term, as well as some great events! On Monday, report cards will be published online. If you haven't done so already, please follow the instructions below to set up a conference with your student's teacher for Thursday.  Initiating and maintaining communication between home and school is vital for student success. If you cannot make it on Thursday, please do not hesitate to reach out to your student's teachers to communicate via email, phone or in person.
ON LINE REPORT CARDS – A Homeroom will take place on Monday November 19th at 8:40 a.m. to distribute passwords to activate My Ed accounts, Honour and Effort Roll certificates, student fees, bus passes and school pictures – please discuss the importance of attending this class with your students.
We will be releasing our first report cards for this year on Monday, November 19th at 4:00 P.M. We are very excited that students and parents will now be able to view and download their reports online. Students will receive a temporary password in homeroom for the My Educational BC Student Portal. Their pupil number, along with their password, will allow them to view their report cards, recent attendance history, and parent/emergency contact information. You must use a desktop or laptop computer to activate your user account for the first time. Complete instructions can be found here, and are posted on our website under the "Parents" tab.
Recognition & Congratulations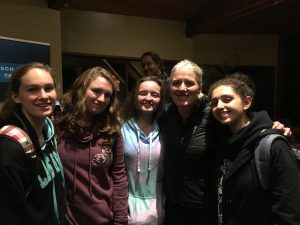 Many thanks to Mr. Gale for organizing for a group of EMCS students to walk in the forest, and discuss current events, with Canada's Minister of Environment and Climate Change, Catherine McKenna, this week. This ties in nicely with the Ecoliteracy Inquiry Project chosen by teaching staff this year.
Congratulations to both senior volleyball teams that will be playing in the Island Championships next weekend! Many thanks to the teachers and coaches who have volunteered to make these teams a success. Kudos to the students for their hard work in making it to Islands!
Events for Students and Student Information
Parent Teacher Conferences will take place Thursday, November 22nd from 2:00pm to 7:00pm
EMCS uses an on-line booking program called School Appointments (at https://emcs.schoolappointments.com/admin/) to book conferences with your child's teacher.  Booking will close at 12pm on Wednesday, November 21st. The link for the system has been included below, as well as the condensed parent instructions.  If you have questions, please visit this link for more detailed instructions, or call the office at 250-642-5211.
Parents/Guardians are encouraged to speak to their child about their Careers course and ask to see their myBlueprint account which contains their assignments, career planning and exploration tools as well as their digital portfolio that they should be continuously updating.  Parents can now access their child's myBlueprint account through a "family account" that is linked to their child's account.  The instructions on how to set up your account or how your child accesses their account can be found by clicking here.
Grade 11 and 12 students have the opportunity to apply for the TASK Program (Trades and Skills Knowledge Program) which will take place in second semester.  Grade 10 students may apply only with teacher recommendation.
As this is a dual credit course with Camosun College there is a detailed application process – please click here for details.  There will be an interview process in the first week of December, and your completed application package with resume and cover letter will be due then.  Once accepted into the program there will be a fee for $41.82 payable to Camosun College.
These applications are now available in the Career Center as well, and the Career Center is happy to assist students with their applications once they are signed by their parent/guardian.  Please feel free to contact Ms. Percival or Ms. Cossentine with any questions, concerns or suggestions.
Important Information for Grade 9 Students
Immunizations for Grade 9 students will be taking place at the school on November 28. Consent forms were sent home on Oct.2. Please send completed consent forms back to the school office as soon as possible. Students without signed consents will be given the opportunity to provide their own consent at the school clinic.  If you have any questions, please call the Sooke Health Unit at 250-519-3487. Thank you.
Important Information for Grade 11 and 12 Students
Camosun College Information & Application Night
Tuesday, November 20
EMCS Theatre 6:30 pm
Students and parents/guardians from all grade levels are invited to attend this evening presentation to learn about opportunities at Camosun College.  You'll find out about programs, admission requirements, athletics, scholarships, and much more!  Camosun College offers a variety of programs, including trades training, certificate programs, diplomas, university transfer, and full 4 year bachelors degrees in some areas.
School counsellors and Camosun College staff will be available in the computer lab after the presentation to assist with the online application process for any Grade 12 students wishing to apply that evening.   Students planning to apply should bring a credit card to pay the application fee (approx. $40).
University of Alberta
Information & Application Night
Thursday, November 29
7:00 pm
Room: TBA
Important Information for Grade 12 Students
Why buy a Prom dress or tux when you can borrow one? The Magic Wand is a non-profit organization that offers an eco-friendly and inexpensive alternative to grad outfits for students. You can borrow like-new grad dresses, tuxes, suits, shoes and accessories for grad night. A small fee for cleaning is the only cost. You can book an appointment now by emailing Elizabeth at esurerus@telus.net or calling 250-658-0246.
Attachments
Purdy's Fundraising Letter 2018
EMCS Society Programs– upcoming classes
Important Upcoming Dates
November 19 – Report Cards Available
November 20 – Camosun College Info Night
November 22 – Parent-Student-Teacher Learning Conferences
November 23 – Non Instructional Day
November 29 – University of Alberta Info Night
December 3 – Non Instructional Day
December 6 – Band Concert, 7pm
December 12 – 10 000 Tonight
December 19 – Cafeteria closes
December 21 – Santa's Breakfast/Locker Clean Out
The EMCS Graduating Class of 2019 is fundraising with Purdy's Chocolatier!
This program gives 25% of the sales back to the graduating class. Students will have the profits from their individual sales put towards their Graduation and Prom fees. Any money raised beyond those fees will support the entire graduating class.
To place orders online, go to https://fundraising.purdys.com/813173-56234, create an account, and join our campaign. Please ensure that you write the full name of the student that you would like to support in the additional information field so that we can allocate the profits to that student's fees. All orders must be submitted by November 26, 2018. Students who choose to collect orders via the paper form in the fundraising brochure must submit the completed order forms and money to Aimee in the office by November 26, 2018 as well. Please make cheques payable to SD #62.  Students will pick up the orders for their family and friends at EMCS on December 6, 2018. Details to come.
If you have any questions or concerns, please contact the Grad Council teacher, Reisha Williams, at rwilliams@sd62.bc.ca. Happy fundraising!