TASK Programs-Trades Awareness Skills and Knowledge
21st Century Learning, Hands-on Learning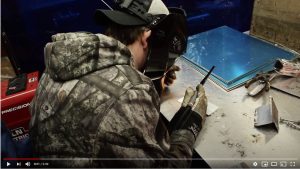 Metal TASK is a trades sampler course. It can be difficult to make decisions about which career in the trades is right for you. By taking Metal TASK you will have the opportunity to sample different trades at Camosun College. You will spend time getting practical hands-on experience from instructors, and will also be able to ask other students what working in each trade is like. Your courses would include: Welding, Plumbing, Metal Fabrication and Heavy Duty.  Students will also learn experientially on-the-job and network in the field which could lead to other employment or apprenticeship opportunities.
EMCS consistently has incredibly talented students in the trades program. We compete annually in the Skills Canada regional competitions, often taking home Gold in Welding. For two years in a row, we were able to send one student to represent the South Island at the Provincial Skills Competition.
Western Canada is facing a shortage of skilled trades workers. There has never been a better time to become a skilled Red Seal tradesperson. Locally, many apprenticeships go unfilled and stay vacant for extended periods of time. Our local shipyards are looking for metal trades outside of the country because we can't keep up with the demand. Our young, talented students have a bright future ahead of them!
A link to the Metal TASK Program application form can be found here.
Read more about it in the Victoria News!
EMCS program forges new path for trades – Victoria News

Deciding on a career after high school can be a bit of a nightmare. The many challenges facing a teen – including peer pressure or whether a university education is better over trade school – is not always ideal for career inspiration to strike. But a new program at Edward Milne Community School …
---
This year the Construction TASK program is only being offered at Royal Bay Secondary.  Please contact Dante Di Ponio for information at ddponio@sd62.bc.ca.