New Programs at EMCS for Fall 2020!  The Metal TASK (Trades, Skills, Awareness and Knowledge) Program will be open to Grade 11 and 12 students for Semester 1, 2020/21. Find out more information here or at our drop-in student/parent information evening on February 11th from 4:30-6:00pm. All students currently registered at EMCS can indicate interest through their course selection in the MyEducation portal. Course selections for current EMCS students will take place February 10th-21st. Application forms will be available at the information evening on February 11th or from Mr. Harmeson. Applications are due Friday, February 21st. We anticipate interviews to take place during the last week in February.
Metal TASK is a trades sampler course. It can be difficult to make decisions about which career in the trades is right for you. By taking Metal TASK you will have the opportunity to sample different trades at Camosun College. You will spend up to two weeks getting practical hands-on experience from instructors, and will also be able to ask other students what working in each trade is like. Your courses would include: Welding, Plumbing, Metal Fabrication and Heavy Duty. During the semester, it is expected that students attend two work placements that are two weeks in duration each. Students will learn experientially on-the-job and network in the field which could lead to other employment or apprenticeship opportunities.
EMCS consistently has incredibly talented students in the trades program. We compete annually in the Skills Canada regional competitions, often taking home Gold in Welding. For two years in a row, we were able to send one student to represent the South Island at the Provincial Skills Competition. You could be the next competitor representing our province at National Skills!
Western Canada is facing a shortage of skilled trades workers. There has never been a better time to become a skilled Red Seal tradesperson. Locally, many apprenticeships go unfilled and stay vacant for extended periods of time. Our local shipyards are looking for metal trades outside of the country because we can't keep up with the demand. Our young talented students have a bright future ahead of them!
---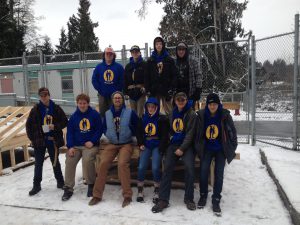 ---
Edward Milne Community School
TASK Program-Trades Awareness Skills and Knowledge
21st Century Learning-Hands on
Edward Milne Community School is proud to offer this opportunity for students to build capacity in trades apprenticeship programs. The TASK (Trades Awareness Skills and Knowledge) Program is an innovative educational partnership between Edward Milne Community School, Sooke School District (SD62), and Camosun College. TASK gives students an opportunity to pursue further training at Camosun College through the South Island Partnership Program funded by SD62, or a secondary school apprenticeship. Students explore a variety of trades including carpentry, electrical, plumbing, metal fabrication, sheet metal, and welding.
The delivery is different than a regular school program; students have two instructors, one from Camosun College, the other a qualified high school instructor. Students will alternate between Camosun College for specialized trade instruction, and Edward Milne Community School. TASK students can earn up to 28 credits towards graduation including dual credits with Camosun College. The program runs full time from February to June each year.
Future growth in the trades sector is positive and high schools are working with industry to offer students skills to become involved in these trades careers. The TASK program is an excellent opportunity to explore a number of trades, and to earn credits in a practical environment. Students will be given opportunities to explore local industry as well as receive hands-on experience constructing small sheds, saunas, greenhouses and other projects as required. If you are interested in having the students in this program construct a small project for your property, or you have a student interested in participating in this program, please contact EMCS Vice-Principal John Lyall, for more information. Contact info: 250.642.5211 or jlyall@sd62.bc.ca