Island Cheer Showcase Location: UVic CARSA
Performance Gym Date: Sunday, March 5th
Time: 4:00pm arrival for athletes and coaches
Show starts at 7:30pm for spectators
Admission: Admission for spectators is by donation at the door
Lunch:  All Cheerleaders are to pack lunch and snacks to cover them for the entire time they are there.  (no concession available)
Bottle Drive
Date: Sunday, March 12th
Time: 9:00am to 2:00pm (or a bit later depending on if we are still sorting bottles)
Location: EMCS front entrance
Okanagan Cheerleading Championships
Location: Kelowna
Dates: 28 – 30 April 2017
Note: More information will follow
---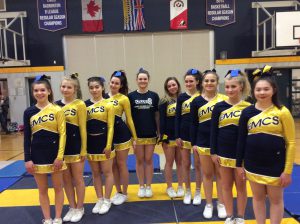 ---
CLOTHING DRIVE FUNDRAISER
EMCS Competitive Cheerleading
Date: Sunday – 6 November 2016
Time: 10:00am – 3:00pm
Location: EMCS Gymnasium     (Use Parking Lot Entrance)
Details:
Clean / Used Clothing for purchase
Upon arrival you will be given a plastic grocery bag
Stuff as many items as you can fit into your plastic bag
Upon Check Out you Pay only $10.00 for each stuffed bag
We are looking for donations of clean, used clothing and footwear.  Donations will be accepted until Saturday, November 5, 2016.  Donations will be picked up upon request by contacting Melynda @ emcscheer@gmail.com
EMCS Competitive Cheerleading Team is a self-funded team that is required to fundraise for travel expenses. Competitive Cheerleading Competitions are held on the Mainland, therefore transportation and accommodation expenses add up.
Thank you in advance for your support.
Contact: emcscheer@gmail.com
cheerleading-clothing-drive-fundraiser
---
Competitive Cheerleading Tryouts
September 20th, Tuesday     5:30 – 7:30
September 21st, Wednesday     5:00 – 8:00
September 22nd, Thursday    5:00 – 8:00
No experience required
Proper gym clothing
Hair must be up and off face
Bring Water Bottle
For questions and inquiries, please email the Cheerleading Coach at emcscheer@gmail.com